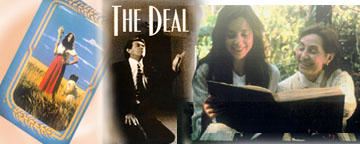 Principals of Mill Ridge have co-produced several independent projects, please find out more about these films, & the people who contributed to them.


Tarantella (1995 USA) Feature. Director: Helen De Michiel; Screenplay: Richard Hoblock & De Michiel; Cast: Mira Sorvino, Rose Gregorio, Matthew Lillard, Stephen Spinella, Frank Pellegrino. A young Italian-American woman prepares her parents house for sale. The process brings back memories of the intergenerational relationships of the women in her family, and with the help of an elderly neighbor she discovers the secret behind her mother and grandmother's immigration from Italy.

The Deal - (1997 USA) Short Film. Director: Don Scardino, Screenplay:Lewis Black. Social satirist, Lewis Black takes aim at big business, and human nature in this twisted comedy.
to return to Mill Ridge Films Home Page.